Supporter subscriber exclusive
How to use the Filter feature

1. Tap the "Profile" tab and verify that you are a Lanetalk supporter
The green flag attached to your profile picture indicates that you are a Lanetalk Supporter subscriber. You are now able to get access to all your games and the in-depth stats as well as the filter feature.

2. Locate the filter icon
As a Lanetalk supporter, the default view includes your latest 30 games.
Scroll down and tap the filter icon (marked in white) to change the view.
As a subscriber, you are able to select what games to include in your aggregated stats overview.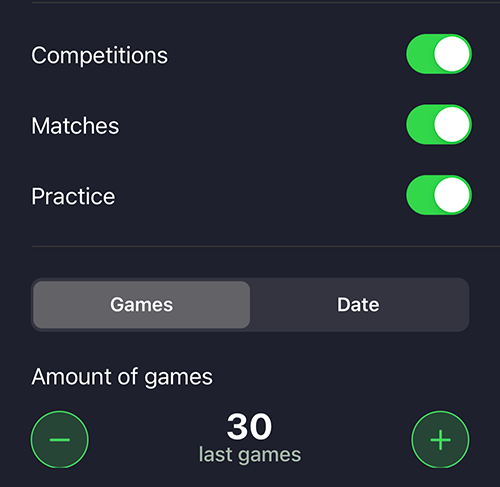 3. Select games to include
When you import your scores to your profile, you can select to store/tag them as Competition or Practice. Online tournaments are stored/tagged as Matches.
You can select how many games to include in your stats. As a subscriber, your latest 30 games are selected. You can select to view stats based on all the games in your profile.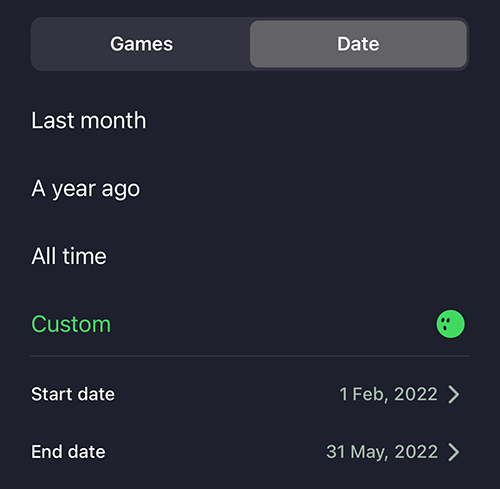 4. Filter matches by date or include all games
If you like, you can select to filter by date instead of games. Tap the Date tab and select the predefined options, or specify a custom date interval. You can also select "All time" to include all your games.

5. Tap "Apply filters"
Finally, tap "Apply filters" to apply your settings to the view.
Note that the Score diagram that shows your total score over time, is only able to include your 30 latest games. The rest of the data will include all games that you have selected to include.
Any other issues with the app?
If you have any issues with the app, please contact us by sending a mail to support@lanetalk.com