PRO subscriber feature:

Tag Your Games
After the completion of your game, you will be asked to tag your game into different categories that suits your needs. You can create and use your own tags such as which ball you are using, the oil pattern you are playing on or the league or tournament you play.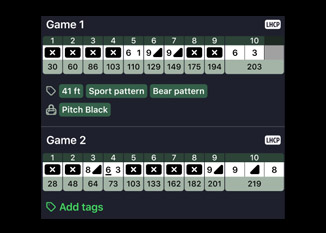 In-depth insights to improve your play
This is a great feature for filtering and statistics purposes. You can for example compare how you performed during league vs. a specific tournament or get performance data for a certain bowling ball on a specific oil pattern. You can tag frame-by-frame or the whole game. This will give you in-depth insights and will certainly help you to better understand your play and take your game to the next level.
Add tags to your games
You can create and add your tags at the same time as you are claiming / importing your games to your profile. You are also able to add tags to games that you already have in your profile. Tap the GAMES icon in the lower menu bar, find the game block that you want to tag, tap on "Add tags" or "Add arsenal" to tag a bowling ball from your arsenal to your game or specific frame. Select one of the tags that you have used before, or create a new one to use.