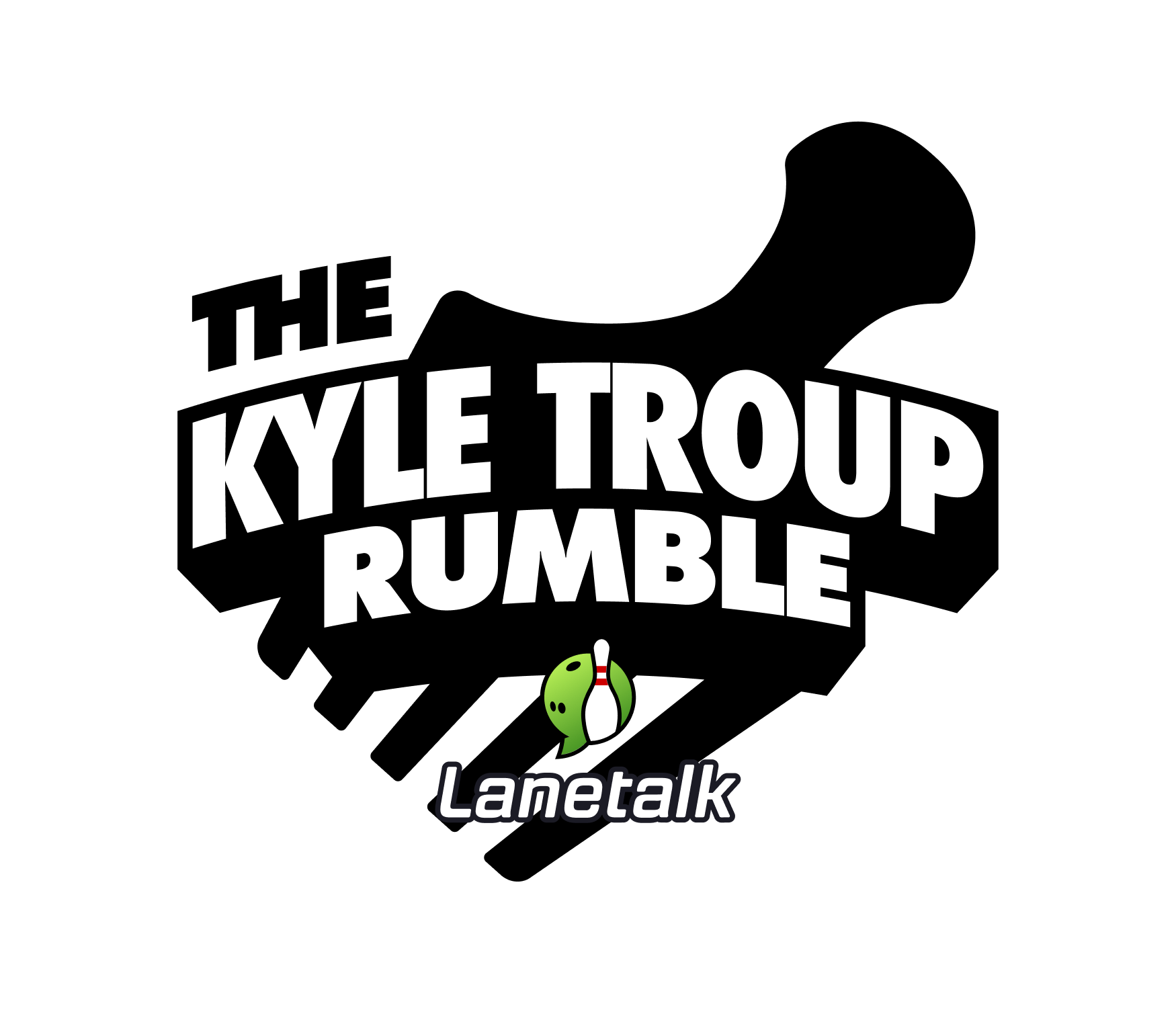 How does it work?
Start by downloading the free Lanetalk app to your phone, visit a Lanetalk connected center (450 centers in the US) and bowl 2 consecutive games to participate in each weekly round (league games as well as open bowling scores are accepted). You are allowed unlimited re-entries to make your best score in the hunt to master the leaderboard!
Every week will include three weekly cash prizes for the top three scores, giveaway to the best female score (outside top 3) + random giveaways. Each week will have a unique dedicated sponsor that provides the random prizes. Position 1 receives $300, position 2 receives $200, position 3 receives $100 – every week. The top finisher from each of the six weeks will qualify to the live-streamed Grand Finale with a chance to win 2 flight tickets to Las Vegas + entry to watch the USBC Masters and meet with Kyle Troup and other PBA Pro Bowlers.
Format
Duration of six weeks with six independent weekly rounds
Each weekly winner advances to a live-streamed Grand Finale
Two consecutive games, unlimited attempts/re-entries (league scores or open bowling)
Play in a Lanetalk connected center in USA, 18 or older to participate
Schedule and Prizes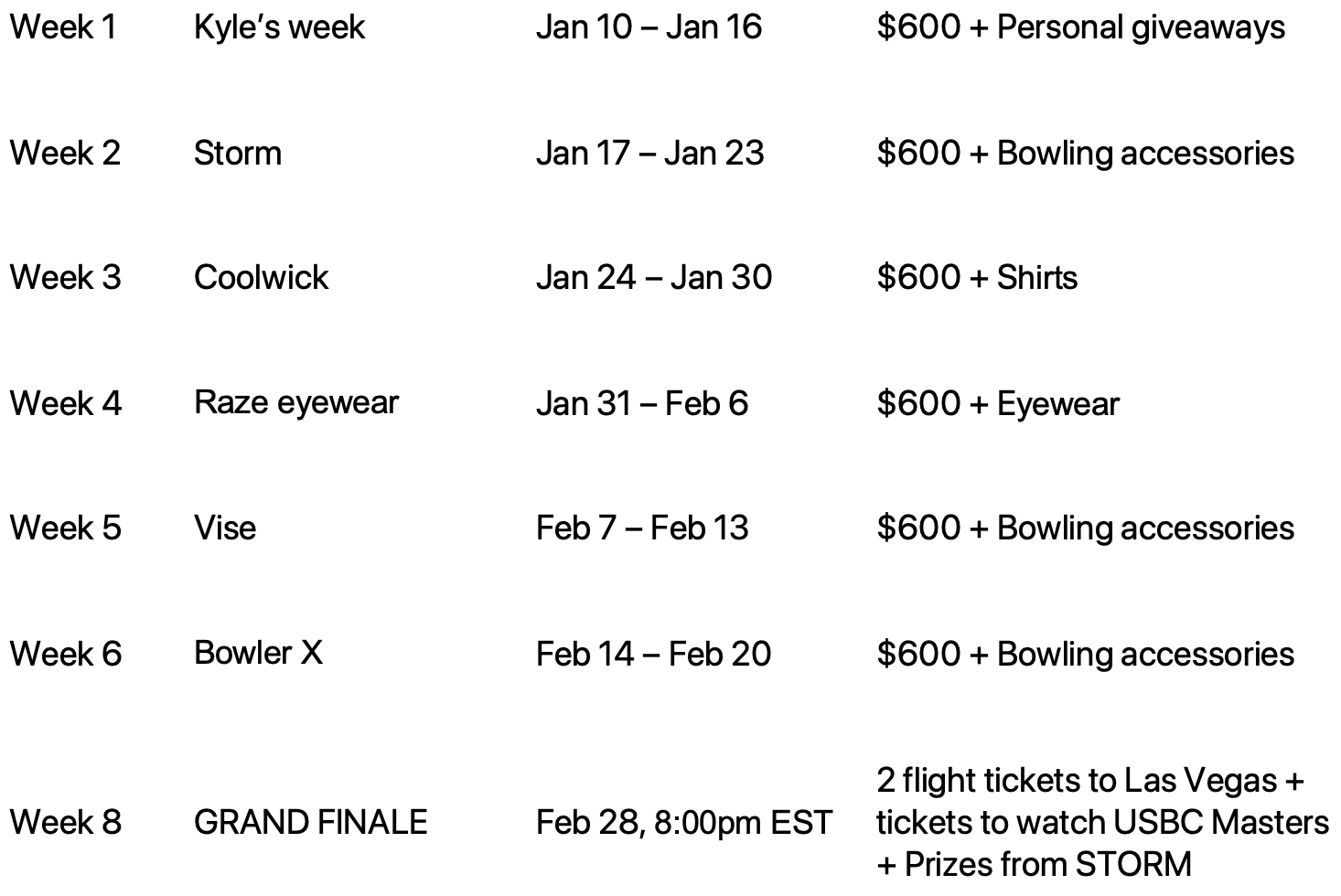 The Grand Final winner will win 2 flight tickets to Las Vegas and entry tickets to watch the USBC Masters and to meet with Kyle Troup (accommodation is not included).
Total prize fund of $3,600 cash prizes + tickets and sponsor prizes for a value of $3,400 gives a total prize fund of $7,000. What are you waiting for? Pick it out!
Contest Rules
The rules are simple, 18 or older to participate, your 2 best consecutive games played in the contest in the Lanetalk app, in a Lanetalk activated US bowling center. Check out the detailed rules here.
More info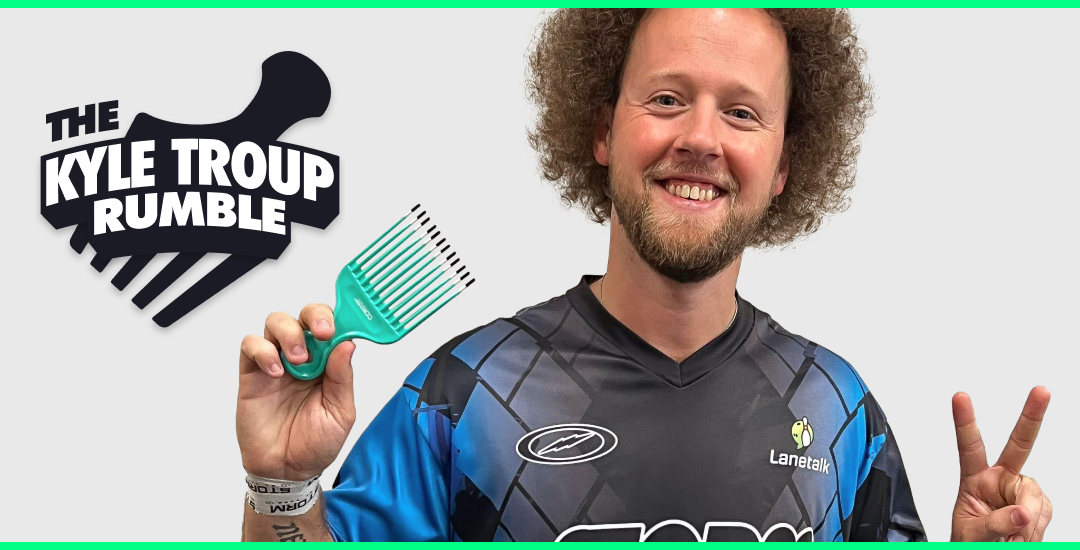 Watch the video when Kyle introduces his Rumble.
Follow the Leaderboards
Week 1 – Kyle Week (Ends Jan 16)
Week 2 – Storm Week (Ends Jan 23)
Week 3 – CoolWick Week (Ends Jan 30)
Week 4 – RAZE Eyeware Week (Ends Feb 6)
Week 5 – Vise Inserts Week (Ends Feb 13)
Week 6 – Bowler X Week (Ends Feb 20)
Winners are announced every week at Kyle's and Lanetalk's Facebook and Instagram pages.
Questions?
Don't hesitate to contact us if you have any questions. You can either send a mail to support@lanetalk.com or send a DM to our Facebook or Instagram pages.